Moana Gems Pearl & Art Gallery
10% off jewellery purchases of $100 and above with Raro Pass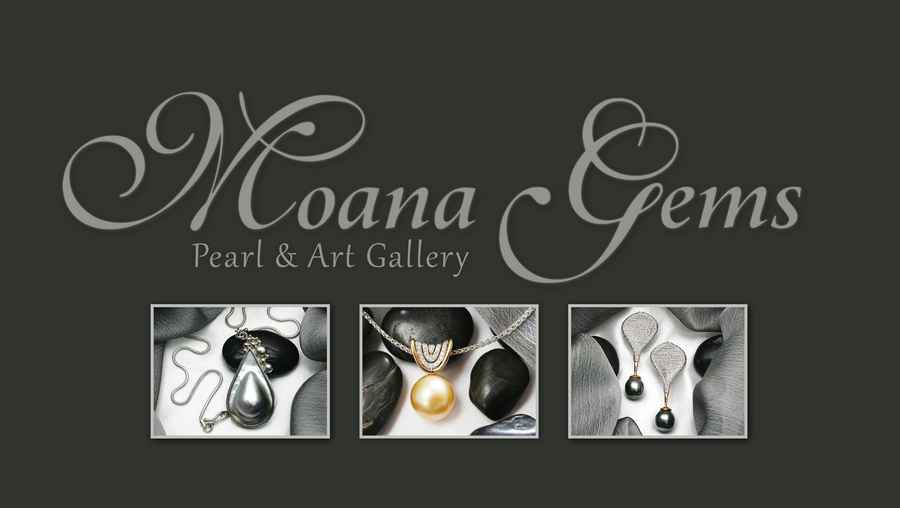 ---
About Moana Gems Pearl & Art Gallery
Moana Gems specialises in the best quality black pearls the Cook Islands has to offer. A wondrous creation of nature & perfect in every form. Exquisite pearls cultured in the remote and pristine lagoons of the Cook Islands. Never one and the same, unique in every way, tinted with shimmering hues of the rainbow.
Moana Gems's jewellery range also includes South Sea Gold Pearls, South Sea White Pearls, Freshwater Pearls, Mabe pearls and an extensive range of elegant sterling silver jewellery.
Moana Gems is a treasure chest of jewellery that is stylish, modern, elegant & timeless.
Our Story
Moana Gems takes pride in being a company owned and staffed by Cook Islanders helping to sustain Cook Islands pearl farming families. Cook Islands Black pearls are cultured in the remote and pristine lagoon of Manihiki in our Northern Group islands with a population of approximately 400 people for whom pearl farming is their lifeblood.
Moana Gems is owned by Jackie Tuara and Raymond Newnham and over the last 37 years they have been involved in every aspect of the Cook Islands Pearl Industry. In 1986 Raymond moved back to Manihiki with his family to begin their family pearl farm (one of the countries pioneering families in the pearl industry) and was joined by Jackie in 1991. After moving to Rarotonga some years later Raymond and Jackie set up Ora Moana Ltd in 1997 initially focusing on wholesaling Cook Islands pearls internationally. Being creative and having an eye for beautiful things it was inevitable that a retail outlet selling these treasured pieces of Cook Islands pearl jewellery would follow. Moana Gems was established in 1999 becoming a sister company to their wholesale business Ora Moana Ltd.
Moana Gems is passionate about Cook Islands black pearls and every purchase is accompanied by a Certificate of Authenticity so you are guaranteed that every black pearl purchased from Moana Gems is not imported, is not treated or enhanced in anyway, and is definitely a Cook Islands black pearl.
Moana Gems Pearl & Art Gallery is located in Uptown Avarua.