Charlotte Piho Gallery
10% off all in-person gallery purchases with Raro Pass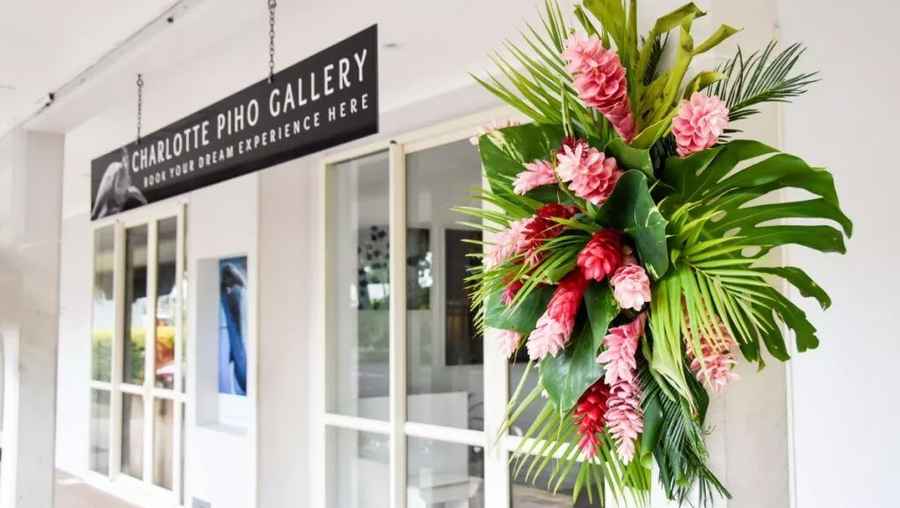 ---
About Charlotte Piho Gallery
Charlotte Piho is a multi-international award winning photographer; and is becoming widely recognised as one of the most followed female artists in oceanic photography. 'Thank you for sharing your images with the world, the work you are doing is beautiful, emotional and important.' - Stuart Mclean, Chief of Staff, The Daily Telegraph.
Charlotte's Cook Islands photography tours; swimming with turtles; eagle rays and all marine life.. Have just been Awarded Tripadvisors highest award: 'The best of the best for 2021'. This Ranks Charlotte's Cook Islands turtle tours in the top 1% of experiences in the world. And top 10 in the South Pacific.
The stories behind each of her timeless images is moving. Photographing fearlessly always on a single breath, often at great depths and in untamed environments. Charlotte's art breaks barriers between marine life and people.
After nearly dying 8years ago, the accelerate academic gave up a corporate career in Finance, to immerse herself in what she loved – the ocean and photography. She recently completed a Diploma in Marine Biology. Canon Australia and Aquatech (Number 1 waterhousing company in the world) thought she was talented and with their support she was able to change her passion into her career. She has been fortunate to have been mentored by Internationally Multi Award winning water photographers including Warren keelan and Asher King. And to have worked alongside award winning Australian Wedding photographer AtDusk (Chris Prestidge).
One of Charlotte's most honourable moments is being asked to showcase her Turtle and Eagle ray images on Australia's most iconic landmark the SYDNEY OPERA HOUSE for World Oceans Day 2021. Charlotte has won numerous International awards. Most recently in Dec 2021 Charlotte was named New York Photographer of the year (Awarded Gold) for the category Nature/Underwater. In 2020 Charlotte was placed 3rd (Awarded Bronze) in the nature/underwater category of the Paris Photographer of the Year awards (PX3 Prix De La Photographie Paris). This is regarded as the most prestigious photography awards in Europe. Other recent accolades include Charlotte named as a finalist and awarded an Honourable mention (Top 10 out of over 13,000) in the internationally highly prestigious IGA 'International photographer of the year awards'. Charlotte was also named a finalist (Top 3) in the Wildlife section of the prestigious fine art 'Worldwide Photography Gala Awards'.