Storytellers Eco Cycle Tours
10% off your booking for all tours with Raro Pass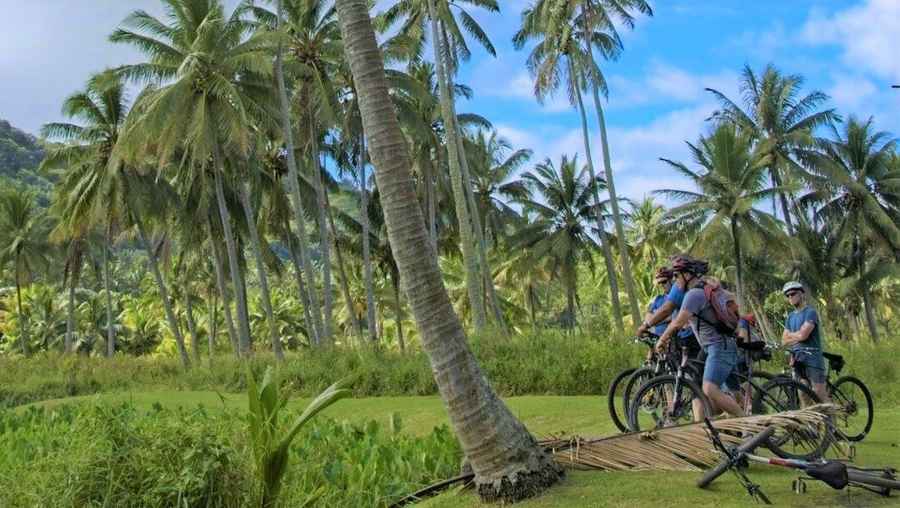 ---
About Storytellers Eco Cycle Tours
Corrina here from Storytellers - I just want to take a moment to briefly introduce myself and Storytellers to you. Storytellers was established in Rarotonga in 2014, and in 2019, along with a local business partner (who came with the business), we purchased it. This was a bit of a change from my former life as a lecturer in Aotearoa, and it has been one very interesting 'ride' ever since! We have an amazing wee team of people that help make the Storytellers experience a pleasure to be a part of - and we have interesting and wonderful tour guests who make our work not feel like work at all. The Covid-19 pandemic has provided the opportunity to have a look at what we do, and how we do it.
As a result, we have retained two of the original three tours, and added a few brand new ones based on feedback and comments that we had during our first year of operations. If you are someone that likes to learn about your holiday destination or you are just looking for a general 'orientation' to the island (while having fun of course), then Storytellers is a great way to do it! Some of the things that you can learn about are:
Local legends and stories
Culture, history and sites of significance
Food trees and plants, flowers, medicine plants
Contemporary life on the Island
The environment … and the list goes on.
We are passionate about where we live and what we do. We have just as much fun showing you around, as you will have on one of our easy-going, relaxed walking, cycling or 'on the truck' tours. We offer genuine, honest, small group tours, where each tour is a unique. Nothing is rehearsed - you never know what we might come across, learn about or experience! We also offer some of the best priced tours on the island, and can cater for all ages and abilities.
Our tours:
'Take-a-peek' at Rarotonga Bicycle Tour (our shortest 'sneak peek' bicycle tour)
'Discover' Bicycle Tour with Local Lunch (our complete beginners bicycle tour experience)
'Explore' Bicycle Tour with Local Lunch and Swim (a full experience for more confident cyclists)
'Walk-about' with Ice Cream Tour (easy walk, family friendly, finishing with an ice cream)
'Afternoon Stroll' about Town Tour (easy afternoon walk in an area of great historical and cultural significance, followed by a 'cold one' at a local bar)
'On the Truck': a range of options available for private, small group transport / tours, 3 to 4 hours.
Custom tours and ALL NEW package deals - designed to cater to different group types and interests at discounted prices!
For young children we have a tow-behind buggy or 'Dolittle' child seat, trail-behind bikes that attach to adult bikes, and a couple of smaller bicycles for the younger, enthusiastic independent cyclists. Please feel free to contact us with any queries you have, and we will do our best to cater to your needs.
If you still need convincing about why you should do one of our tours, then check this out:
2018 Air New Zealand Cook Islands Tourism award winners for 'Eco / Adventure Tourism'
Mana Tiaki Certified (eco-certification)
2021 Cook Islands Tourism Accreditation
2021 Five star rating on Facebook
2021 Five star rating on Trip Advisor as well as 'Traveler's Choice' Award and 'Top 10 Outdoor Activities on Rarotonga'.
2021 APAC Business Awards: Best Walking & Cycling Tour Operator - Cook Islands
We hope to see you soon!
Meitaki ma'ata e kia manuia